An ageing population presents both challenges and opportunities. Fabien Clavier, Lead Project Manager and Angela Saenz, Project Manager, IPAL CNRS (Singapore) tell us more about IPAL and its projects in Singapore, notably its work on ageing.
What are IPAL main fields of research around the world and in Singapore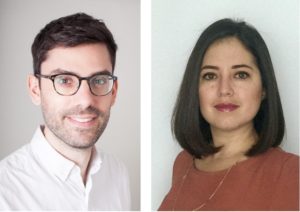 IPAL (Image and Pervasive Access Laboratory) is a joint international research laboratory representing French and Singaporean academic partners. Created in 1998 as an overseas laboratory for the French National Centre for Scientific Research (CNRS), it obtained in 2007 the highest scientific ranking among CNRS labs outside of France.
IPAL research activities benefit from a close collaboration between its French academic partners (CNRS, Institute Mines-Télécom, Pierre et Marie Curie-Sorbonne University, and University of Grenoble-Alpes) and Singaporean partner institutions (Institute for Infocomm Research/A*STAR and National University of Singapore).
With a focus on 'Inclusive Smart Cities and Digital Health', we develop AI solutions aimed at improving quality of life of frail people (mainly ageing but also people with chronic conditions such as asthma or type II Diabetes) and engaging them in pursuing healthy and active lifestyles. Our research is in line with the Smart Nation initiative launched in Singapore and is supported by the Horizon 2020 European Research Program.
How are the field and needs of preventive healthcare evolving?
The number of ageing initiatives in Singapore has increased, notably with the launch of the S$3 billion "Successful Ageing" Action Plan unveiled in 2015. This plan has more than 70 initiatives covering different areas – health and wellness, learning, employment, housing, transport, public spaces, respect and social inclusion, retirement adequacy, etc – to prepare Singapore for rapid population ageing in the next decades.
Government agencies are keen on encouraging ICT and AI investments in the field of ageing and well-being. Many testbeds are being run in different neighbourhoods to push forward the research on healthcare sensors, activity recognition, fall detection, mobile coaching, quality-of-life tracking, turning the city-state into a living lab for smart technologies.
In this context, IPAL is working on an innovative solution called UbiSmart, a B2B or B2C digital platform that provides visualisation, understanding and assessment of an individual's behaviour in a specific environment. UbiSmart works hand-in-hand with a specific set of sensors capable of collecting data from an individual or a segment of population in any given environment. That data is then treated to reveal different activity patterns and behavioural changes, and sends alerts when intervention is needed. UbiSmart sets solid ground in the field of preventive healthcare by empowering individuals and cities in early detection of risks associated with frailty and ageing.
How is the role of social and health services evolving in the care of an increasingly ageing world population?
In the health sector, data is often collected with the purpose of detecting "markers" for possible diseases.
In an increasingly ageing population, we believe that we need to aggregate data from additional sources in order to identify "behaviours" relevant for the prevention of cognitive impairment and frailty. Behaviours are inherently more fluid and ambiguous than standard markers used for health prevention, since they require a sophisticated level of "interpretation" and the comparison of various sources. Recognising and analysing behaviours also necessitate partnering with social services players, such as senior activity centres, which are the main hubs for the elderly community living alone in Singapore.
IPAL is working on the City4Age project, a EU Horizon 2020 research project, dedicated to supporting smart cities in empowering social/health services (and families) facing cognitive impairment and frailty of the elderly population. The challenge is to demonstrate that smart cities can play a pivotal role in prevention of ageing-related risks.
We have six pilot sites to test different parts of the City4Age solution in different contexts: five in Europe and one in Singapore. It is very interesting to be in Singapore because the city-state is quite ahead in the integration of new technologies within the urban environment. This implementation allows us to visualise how a European solution can be developed in Asia, and, why not, elsewhere.
---
Interview with Fabien Clavier, Lead Project Manager and Angela Saenz, Project Manager, IPAL CNRS (Singapore)
IPAL (Image and Pervasive Access Laboratory) is a joint research international laboratory representing French and Singaporean academic partners in the field of Inclusive Smart Cities & Digital Health. Find out more about IPAL here.
Published in FOCUS Magazine — Issue #3 2017 "In the Pink of Health"